Insurance for Electric cars can currently be expected to be more expensive than for Petrol or Diesel ones purely due to the current small size of the market. However Compare the Market reports that "Insurance costs are becoming more competitive" March 2020.
In the YouTube video 'The truth about Electric car insurance – Is it more expensive?' May 2020 EVM, in the video below, finds the Kia e-Niro to be 10% more expensive than its Petrol equivalent, however he points out that the electric version car is more expensive to purchase and so more expensive to replace. The Electric version is also much more powerful. Some policies include towing to the nearest charge point in case of a 0% remaining charge situation, a pretty rare event however, Breakdown cover would include this.
Why does it cost more to insure an electric car?
As electric cars operate differently to (and are less common than) traditional ICE vehicles, they do present some unique issues for insurers such as:

Costs of specialised parts.

Repairs by specialist mechanics.

Expensive batteries.

Pod point – June 2021
At present, this means electric car insurance policies are slightly more expensive than an equivalent ICE vehicle. As more electric vehicles become available and with the government's ban on new petrol and diesel cars coming into force in 2030, the cost of insurance will reduce and eventually become cheaper than their ICE counterparts.
What policy features can I get with electric car insurance?
As well as standard protection for this like personal accidents and breakdowns, an electric car insurance policy should also offer cover for:

Battery: This will cover any damage done to your battery

Portable charging cables: If your cables are lost, damaged or stolen whilst in your car or in use at a garage

Legal liability: In case someone trips over the charging cable whilst in use

MoneySuperMarket – Compare electric car insurance quotes – June 2020
There's also the general rule for any car insurance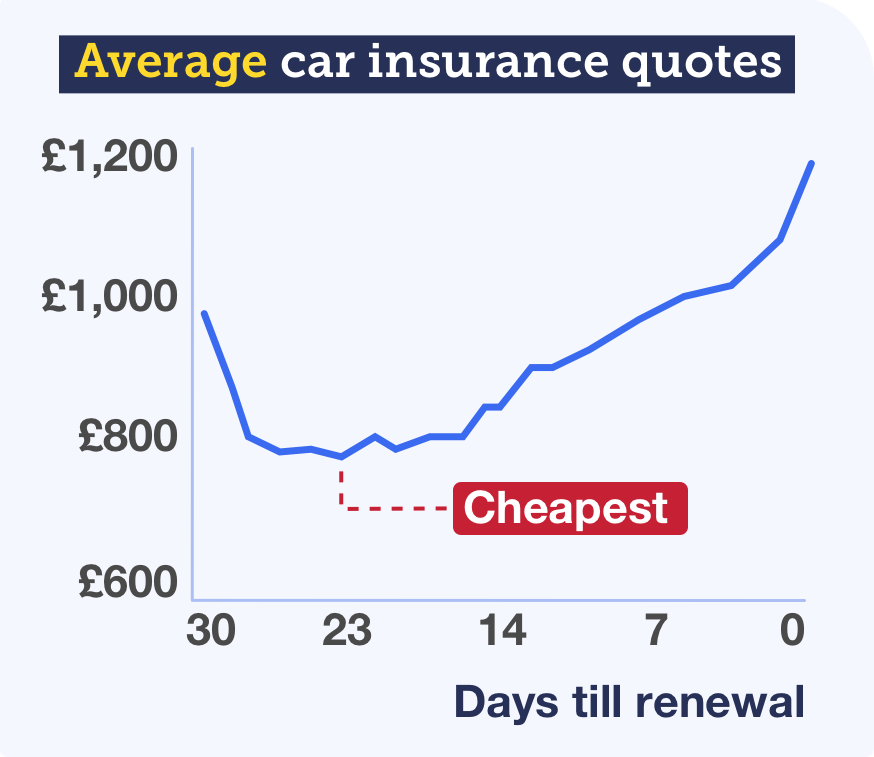 In 2018 we revealed that 21 days ahead was the cheapest time to get car insurance quotes. We've now done this research for the third time, and it's shown that the cheapest time to get car insurance quotes is 23 days ahead of your renewal date (though any time between 19 and 25 days ahead doesn't change the price by much).

Money Saving Expert